I keep all of my letters, postcards, and thank you notes. I'll keep them forever! ~Jane Levy
For the most part, technology is incredibly beneficial. It enables us to do a lot more in less time, allowing us to be more efficient and effective. But there are drawbacks. Faster communication has reduced the level of personal connection in daily interactions, especially when it comes to expressing our gratitude.  Instead of a handwritten note, most of us tend to send a quick text or email. But written thank you notes are a small touch that has the potential to leave a lasting impression that make people feel very special.
Handwritten notes may be sent for any occasion after a meeting with an important customer or client, when you receive a gift, or when you're invited to an event. To ensure a positive response, keep your thank-you notes short, simple, and meaningful.
Here are 3 more tips to keep in mind to write thoughtful thank you notes.
Invest in branded stationery
Order stationery custom-made especially for you rather than purchasing a pack of thank-you cards from the store. The design and style of the card should reflect your personality or personal brand (if using for business thank you notes). It will also be more enjoyable to you, the writer, to use beautiful, personalized stationery.
Always write by hand
Writing by hand is a personal touch that conveys you cared enough to take the time to write the note. The time investment is thoughtful, making the other person feel special and important. To make the process more enjoyable, purchase a quality blue or black fountain pen. Thank you notes are more fun to write when you use an elegant writing instrument.
Keep it short
Carefully craft your message in a few sentences rather than writing a long letter. Mention what the person did to help you, how they positively impacted you or your business, and reiterate your appreciation. Mail the thank-you note within one or two days after someone does something special for you. Your promptness will highlight your sincerity.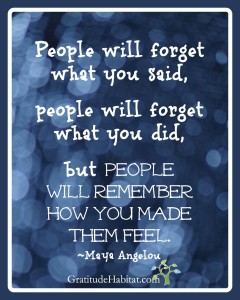 Most people don't receive many handwritten thank you notes. But those that do remember them. These personal messages of thanks are remembered and appreciated in a way that emails and text messages are not. So the next time someone gives you something for which you are grateful, send them a handwritten thank you note for a long-lasting impression of appreciation.
May your day be filled with gratitude and good things.
https://gratitudehabitat.com/wp-content/uploads/2014/08/Sunday-blog-hdr-branch.jpg
154
436
Carol Adamski
https://gratitudehabitat.com/wp-content/uploads/2012/09/GH_logo_packing1.jpg
Carol Adamski
2015-12-26 23:37:44
2016-02-01 01:10:42
Living In Gratitude: Unforgettable Thank You Notes