Compliments are gifts. Receive graciously and simply say, "Thank you."
Everyone appreciates a compliment but many of us don't know quite how to accept them gracefully.
Compliments can make us feel uncomfortable. We don't want to appear as though we are 'tooting our own horn' by accepting a compliment yet at the same time, we want to enjoy it.
Below are a few tips to graciously accepting the gift of compliments.
The best response when someone compliments you is simply: Thank you.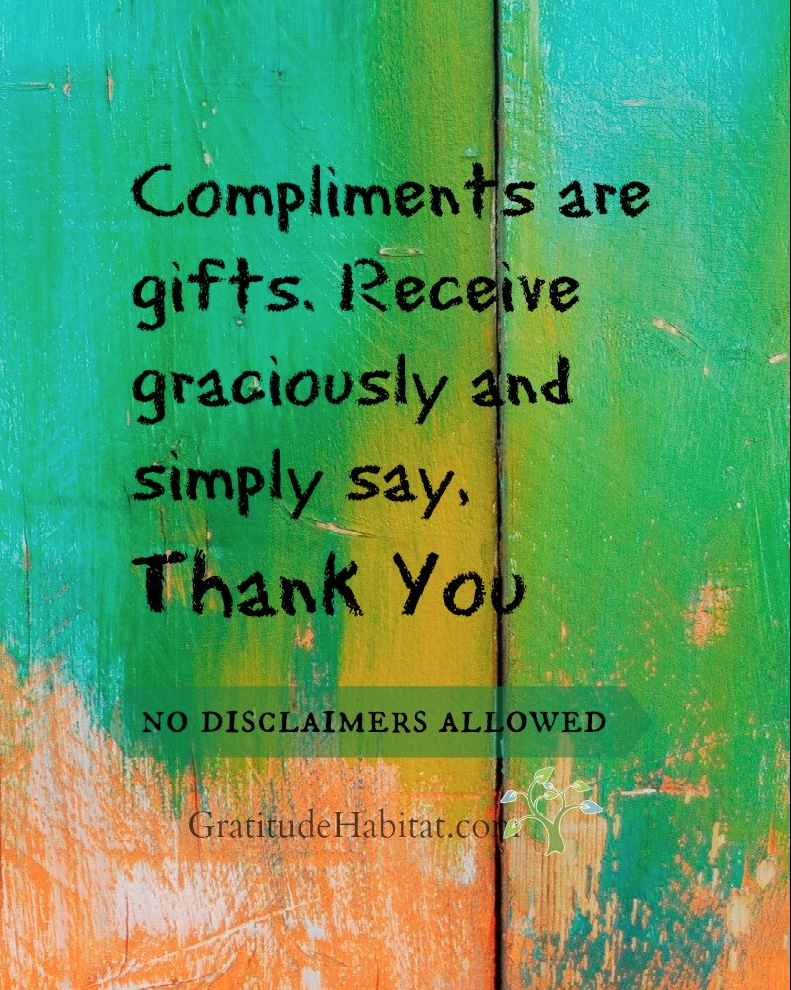 If that doesn't feel like enough, try to keep your response short and sincere.
"Thank you, my parents gave this to me and it's always been one of my favorites," or 
"Thank you, I really enjoyed presenting to your group,"
 or "Thanks so much, that means a lot to me."
Accept All Compliment
s
When we deflect or turn down a compliment, we are basically insult the giver.
Giver: I love your outfit. It was the perfect thing to wear to this event.
Receiver: Oh, this old thing? I grabbed it out of the back of my closet.  I don't really like it, but it was too late to find something better.
That response informed the person who complemented you that they have poor taste. Now they are wondering why they offered you a compliment to begin with.
What should you have said? Thank you.
Don't Make Yourself Look Bad

Your manager told you that you did a fantastic job on a project. You don't want to sound arrogant, so to downplay it,  you point out all the things you should have done better. "Thanks, but I wish we would have finished earlier." Or "I didn't do much. The team really made this project happen." While it is important to give credit to the right people, don't reject credit you've rightfully earned.
By pointing out your mistakes or giving full credit to others, your manager may decide you're right.
Avoid Arrogance
Overconfidence comes across as rude. If someone tells you your project was the best, or your outfit is fantastic, don't agree. Simply say. "Thank you".
Was that Compliment Sincere?
There are times you may question the sincerity of the compliment. Was the person being sarcastic, snide, or superficial? What were they really trying to say? It doesn't matter. It's not your job to judge the giver's intentions when you receive a compliment.
Just say, "Thank you".
When someone presents it to you, accept the gift of a compliment graciously.
May your day be filled with gratitude and good things.
Excerpts from SmartTalk.
https://gratitudehabitat.com/wp-content/uploads/2012/09/GH_logo_packing1.jpg
0
0
Carol Adamski
https://gratitudehabitat.com/wp-content/uploads/2012/09/GH_logo_packing1.jpg
Carol Adamski
2014-09-20 23:30:52
2014-09-03 20:49:46
Living In Gratitude: Compliments Are Gifts