Happiness cannot be traveled to, owned, earned, worn or consumed.

Happiness is the spiritual experience of living every minute with love, grace and gratitude."

~Denis Waitley
Happiness isn't a material thing or even a place. We can't purchase it and we can't hop in a car or on a plane and go there.
Happiness comes from within. It is something we alone can create for ourselves. No one else in life is responsible for our happiness, nor are we responsible for theirs.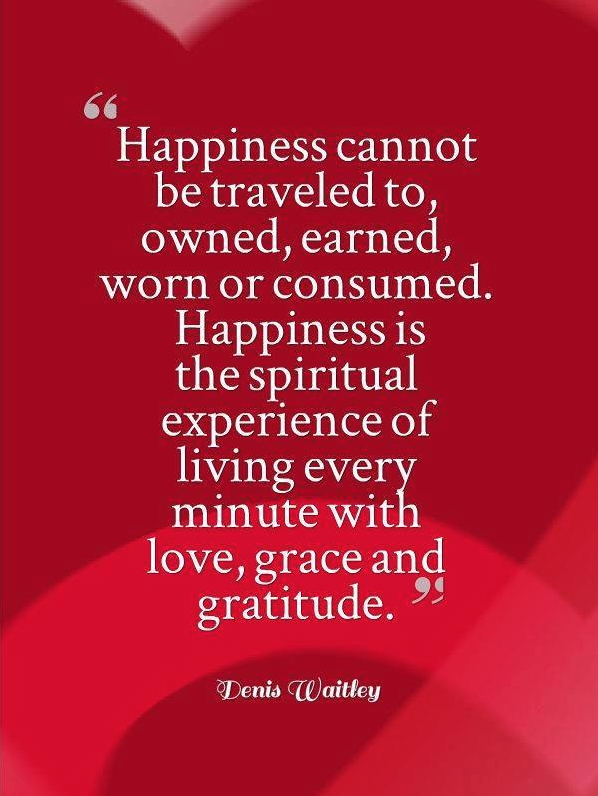 Happiness is a beautiful byproduct of living our life with kindness, appreciation and love. It's about taking time to look, listen, taste, touch and hear the beauty and wonder that surrounds us. Happiness is finding the blessings in all things, savoring your favorite song or meal, hugging those you love. It is sheer enjoyment, playfulness, laughter and living in the moment.
Happiness is indeed a spiritual experience. Find your happiness by living with love, grace and gratitude.
May your day be filled with gratitude and good things!
https://gratitudehabitat.com/wp-content/uploads/2014/08/Sunday-blog-hdr-branch.jpg
154
436
Carol Adamski
https://gratitudehabitat.com/wp-content/uploads/2012/09/GH_logo_packing1.jpg
Carol Adamski
2015-03-28 23:30:26
2015-01-13 21:27:51
Living In Gratitude: Happiness