Don't change so people will like you. Be yourself and the right people will love the real you. ~Anonymous
Social media has enabled us to stay in touch with friends near and far but it doesn't necessarily equate to meaningful relationships.
Close friendships require time and energy. They need to be nurtured and attended to. Below are 10 ways to cultivate successful relationships with family, friends and even coworkers.
1.  BE HAPPY WITH OURSELVES
Liking ourselves is the foundation for others to connect with us. After all, if we fundamentally don't like who we are, why would anyone else?
2. LEARN TO LISTEN AND UNDERSTAND
Be the person who listens, hearing others without interrupting. Listening is one of the greatest gifts we can give another person. Allowing someone to speak, be heard and understood is an invaluable part of every meaningful relationship.
3. REACH OUT
When we meet someone with whom we connect, we should take the initiative and reach out to them. Many great relationships have been lost due to the "who will call who first" game. We should call, email or text within the first two days to let that person know we enjoyed meaning them and hope to continue forging a new relationship.
4. BE POSITIVE
People who are upbeat and optimistic are more likely to build strong relationships than those who are negative.
5. BE OURSELVES
Being ourselves takes less energy and is a much more honest and forthright way to connect with others.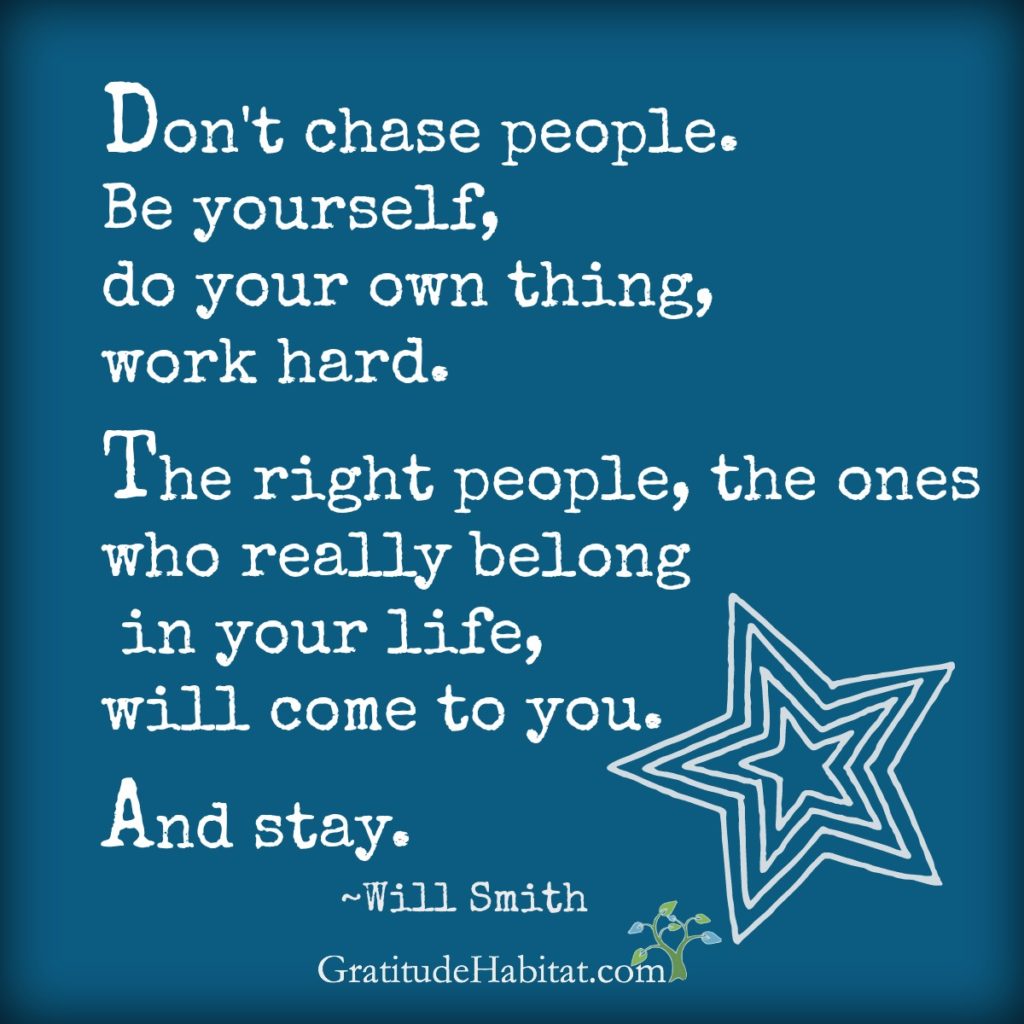 6. MAKE TIME
Meeting face to face is critical to keeping a relationship strong. Finding time to grab lunch or a cup of coffee helps solidify our connections with those most important to us.
7. OFFER TO HELP
Offering our assistance to friends, family or colleagues before they ask shows these people that we care about them and want to help. Make a meal for a friend who is ill or just had a baby. Help a friend move or offer to pet-sit or water their plants while they're away on vacation.
8. AVOID PITFALLS
It is important to have realistic expectations and boundaries for relationships. We should assess our relationships for the following behaviors, and avoid committing these ourselves.
Having unrealistic expectations of ourselves, the other person, or the relationship in general.
Coming too close too soon either physically or psychologically.
Being negative about ourselves, the relationship or life in general.
Being a rescuer, a martyr, a savior or a "perfect" person.
Trying to change the other person to suit our needs.
Being too self-centered, judgmental or always "right".
Stockpiling strong feelings – anger, pain, sadness, neediness – and then pouring them all out at once.
Expecting the other person to be a mind reader, a fixer or always a rock of stability for us.
9. LET IT GO
As with all relationships, there will be times when we disagree. Being able to let go of our differences and not hold grudges fosters stronger relationships.
10. EXPRESS APPRECIATION
Each of us wants to feel appreciated. Letting our friends, family and coworkers know how much we appreciate what they bring to our lives forges a deep connection.
May your day be filled with gratitude and good things.
Article excerpt from entrepreneur.com
https://gratitudehabitat.com/wp-content/uploads/2014/08/Sunday-blog-hdr-shell2.jpg
154
466
Carol Adamski
https://gratitudehabitat.com/wp-content/uploads/2012/09/GH_logo_packing1.jpg
Carol Adamski
2016-08-20 23:30:06
2016-08-05 16:29:27
Living In Gratitude: 10 Ways to Cultivate Meaningful Relationships