Gratitude opens your heart to love.
Studies on gratitude show that those people who are grateful have more friends, deeper, more meaningful relationships and healthier partnerships/marriages.
Gratitude creates an amazing ripple effect in our relationships.
When we appreciate those around us, we begin to understand on a deeper level how much our friends, family and loved ones bring to our lives. Support, laughter, connection, conversation. And when we express that gratitude to each of these people, not only does our heart swell with love, but it positively affects the people for whom we are grateful. Our gratitude makes them feel loved, wanted, needed and appreciated. And when they feel all of these positive things, they in turn, 'pay it forward' by expressing their appreciation to the ones that love, guide, and support them.
Ways to show gratitude to the people you love:
1. Share a specific example of something they did for you and how it made a difference in your life.
2. Do something little but thoughtful for them, like leaving them a special note where they may find it during the day or sending a "Thinking of you" text.
3. Give them a hug.
4. Let them you're there if they have anything they want or need to talk about—and give them your full attention.
5. Give them something of yours that you think they would enjoy, and let them know specifically why you want them to have it.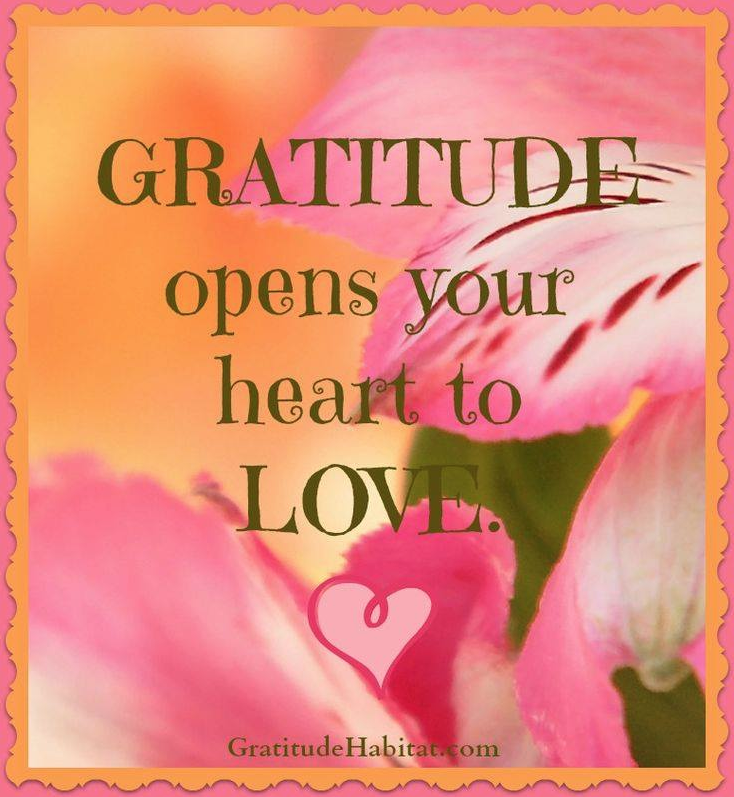 6. Invite them to do something you know they've always wanted to do.
7. Encourage them to try something you know they want to try, but haven't yet because they're scared.
8. Offer to do something for them that you know they don't enjoy doing, like organizing their closet or mowing their lawn.
9. Compliment them on a talent, skill, or strength that you admire.
10. Look them straight in the eyes and say, "You make the world a better place."
When we take a little time each day to show how much we appreciate those closest to us, we deepen those relationships, creating bonds of love that will grow and flourish over time.
May your day be filled with gratitude and good things.
https://gratitudehabitat.com/wp-content/uploads/2014/08/Sunday-blog-hdr-blue2.jpg
132
466
Carol Adamski
https://gratitudehabitat.com/wp-content/uploads/2012/09/GH_logo_packing1.jpg
Carol Adamski
2017-02-25 23:30:00
2017-02-18 16:33:05
Living In Gratitude: Gratitude Opens Your Heart To Love