Make it a habit to tell people thank you. To express your appreciation, sincerely and without the expectation of anything in return. Truly appreciate those around you, and you'll soon find many others around you. Truly appreciate life, and you'll find that you have more of it ~Ralph Marston
Have you ever wanted to give a friend, significant other, family member, teacher or co-worker a very special gift to express how much they mean to you but were at a loss to find the perfect present?
Here it is! A Gratitude Gift Journal.
A one-of-a-kind, heartfelt present that's simple to create. Odds are, it will be treasured as one of the best — or maybe even the best — gift your special someone has ever received. 
Making A Gratitude Gift Journal
You'll probably know immediately who you want to do this for: your heart will tell you. Pick an occasion: birthday, anniversary, Thanksgiving, or 'just because.'
To Get Started, You'll Need….
1. A Blank Journal
The journal can be fancy or plain, expensive or not. And, each journal you create will most likely be different, depending upon who you give it to.
2. A Pen
Blue, black, or every color of the rainbow…use whatever fits your mood.
3. Your Time & Appreciation
Each day, take a few minutes to write down three or four (or more) things you appreciate about your special person. Let your heart open to fill as many pages as you can or, keep it simple. Let the person know of all the little things you are grateful for, as well as the big. As you go along, you'll probably repeat some things over and over…and that's okay!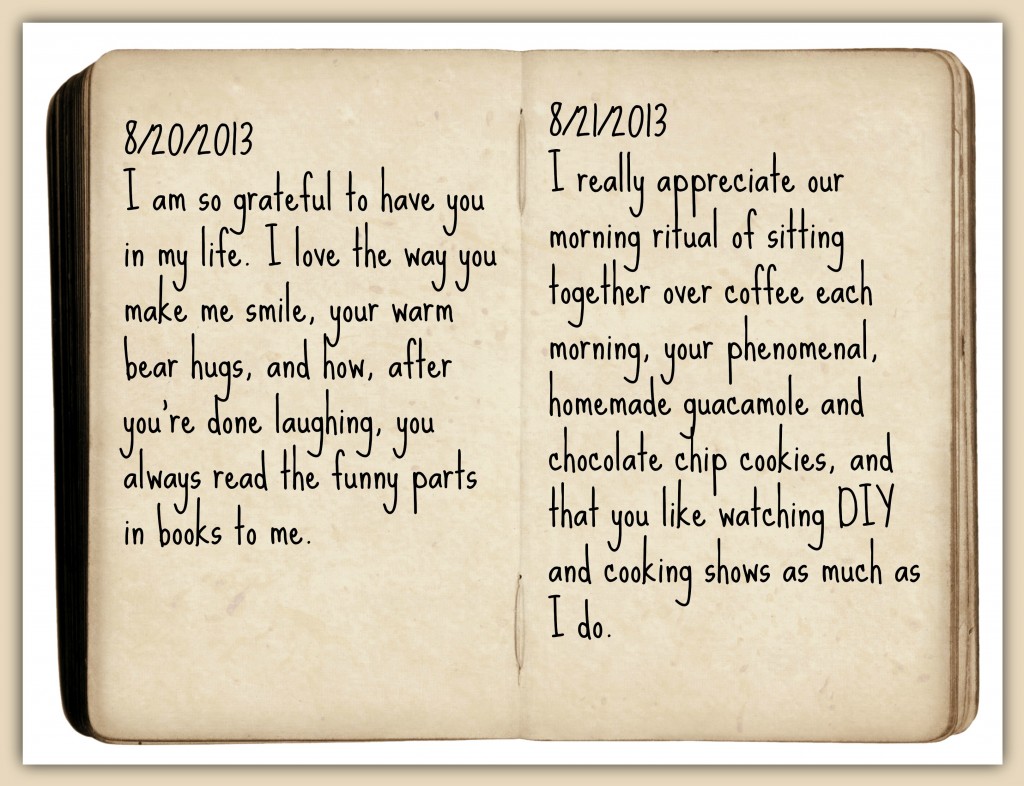 When the special day arrives, you will have a unique, heartfelt gift that will show and say how much that person means to you.
Here's a bonus: Your love and appreciation will grow for this special person and you will very likely find yourself happier with your life as a whole. Gratitude does that.
P.S. Spread the word about gratitude and this great gift idea. Pass this blog link along to family and friends. Who knows, maybe someone will take the 'hint'….
Comment & Share
For whom would you like to create a gratitude gift journal?
What would be the first thing you would thank them for?
Gratitude Umbrella
And when it rains on your parade, look up rather than down. Without the rain, there would be no rainbow. ~ Gilbert K. Chesterton
Look skyward during the next rain storm to remind yourself that there are so many things for which to be grateful.
For a limited time, get 30% off this simply elegant auto-open umbrella with 'thank you' in different languages sprinkled beneath the canopy. This special offer is good through Friday, September 13, 013.
Available for purchase in our Gratitude Gift Shop.
Be sure to enter UMBRELLA30 at checkout to receive your gratitude discount.
https://gratitudehabitat.com/wp-content/uploads/2013/08/file8581269013710-scaled.jpg
1703
2560
Carol Adamski
https://gratitudehabitat.com/wp-content/uploads/2012/09/GH_logo_packing1.jpg
Carol Adamski
2013-08-27 23:30:00
2013-08-27 22:48:20
The Most Memorable Give You'll Ever Give